金宝博开户
---

在家庭生活中常见的织带,如用作窗帘头,帮助窗帘在窗帘轨道上顺利悬挂;此外,卧室中使用的床垫的侧边缘也是通过针织机械制造的成品之一。生活中有很多丝带产品,如背包带,箱包或宠物带可以用针织机器制作。对于带的详细信息,请点击下面的带状产品图标以获取更多信息;或者通过网络形式联系"Kyang Yhe",并在"联系我们"中,提供色带照片和相关材料和尺寸,帮助您更快地解决您的疑虑。

---

118bet网址多少

---

医疗保健中的普通底织物,如医用纱布绷带和伤口敷料的弹性绷带,可以采用针织机或钩针机编织。腹部支撑粘合剂通常用作保护齿轮,并用于腰部,以帮助背部肌肉载体。为了减少不适和疼痛,其编织机械是针织机器或钩针机Compet Machin.common Webbings,用于医疗和保健包括防护服外用的面膜带和弹性带,除了医用纱布绷带和弹性绷带外。面部掩模以上,顾名思义,用于掩码。通常,圆形带更常见,并且它们使用绳索针织机编织。防护服弹性带采用编织机,用于保护衣服罩,腰部,袖口和脚踝,以帮助工人舒适地穿着,轻松移动,并保护员工免受工作场所的危险。如需详见丝带,请单击下面的功能区产品图标以获取更多信息;或者通过网络形式联系"Kyang Yhe",并在"联系我们"中,提供色带照片和相关材料和尺寸,帮助您更快地解决您的疑虑。

---

---

Common weaving belts are widely used in clothing products, such as elastic bands for women's underwear, bra straps, and waistband for men's underwear. According to the organization of the belt, the weaving machine can be a needle loom, a crochet machine, or even a braiding machine. Weaving with a needle loom machine or a crochet machine, the ribbon pattern can be more diversified, either plain or lace or jacquard.The common webbings on clothing products still have trademark belts also known as a logo. The weaving machinery can be called label jacquard looms machines or printed label loom made by various machines. And the zipper tape with chain element and slider material is commonly used in jackets, jeans, etc., and its weaving machinery is a special type of needle loom machine.Common webbings on clothing products also have decorative tapes such as twill tapes, ribbons, ric rac, etc. The twill tape according to the pattern can also be called herringbone tape, mattress tape and fold elastic elastic belt. Common materials such as nylon, polyester and PP use different materials according to the different properties of the webbing. Most of its weaving machinery is needle loom machines. And ribbons can be divided into satin, taffeta, grosgrain, organza, velvet, plaid and metallic ribbon, etc. Most of their weaving machinery are needle loom machines.

---

---

About industrial webbings textiles with slow- stretching webbing, safety belts, lifting slings, PE flat ribbon, ratchet straps and reflective tapes. The anti-falling safety belt (full-body safety belt) and shock absorbing lanyard (Tie back lanyard) are used for on-site construction, high-altitude operations and other necessary safety protection tools to disperse the load to avoid partial body injury and ensure personal safety.The sling can also be called a lifting sling. When applied to a hanging operation, the influence of the sling method on the load carrying capacity of the sling must be considered. And when deciding on the type of sling to use, it is necessary to first understand the scope of use of the sling, the nature of the workplace, whether there are chemical agents that adversely affect the strength of the sling, and other factors to avoid the reduction of the load capacity of the sling.The ratchet strap can also be called a lashing strap, tie down strap, winch strap or trailer strap, to ensure that the vehicle loaded with cargo will not slip, fall, roll, etc. under normal use or emergency braking, so as to ensure the safety of passers-by.PE flat ribbon is often used on bulk bag, dumpy bags, tonne bags or jumbo bags. It is a medium-sized bulk container. It can be transported as a unit by crane or forklift. It is convenient to transport bulk powdered materials and has a large volume and light weight, easy to load and unload and other characteristics, is one of the common packaging materials.

---

---

Automotive textiles of tape include seat belts, automobile peripheral accessories and automobile parts covering materials. The common are seat belts, and the manufacturing conditions must comply with safety regulations, including the wear resistance, water resistance, cold resistance and heat resistance of the webbing.And the car accessories, such as the hook and loop fastener for the seat belt sheath, the elastic for fixing the car seat cushion, the PP belt or the hook and loop fastener for the U-shaped pillow and the pet safety belt.

---

---

鞋带纺织设施包括鞋带和鞋类配件。鞋带可分为圆形和平坦的形状。它们可以用织机,编织或针织编织。根据要求,有印刷的鞋带,提花鞋带和椭圆形抗松散鞋带。椭圆形抗松散的鞋带和提花可以通过提花织机机编织。凉鞋在鞋材料周围更广泛地使用,根据定制,款式可以是平纹,提花,变量(窄宽)。

---
---
搜索
最好的Sale
织机|纺织机械制造商 - Kyang Yhe(KY)188宝金博送彩金
以台湾为基础,kyang yhe精188bet官网注册美机械有限公司是1964年以来的领先纺织机械制造商之一。
188宝金博送彩金Kyang Yhe(KY)industrial textile machines are designed to deliver fine quality textile knitting products such as elastic tapes, ribbon tapes, safety belts, luggage belts, hooks and loops, etc. Their textiles equipment is productive, high speed, easy to operate. It includes needle loom machines, weaving machines, label printing machines, weaving loom machines and more.
188宝金博送彩金Kyang Yhe(KY)自1964年以来一直为客户提供高品质的纺织机械。均采用先进的技术和56岁的经验,Kyang Yhe(Ky)确保满足客户的需求。
---
Hot Products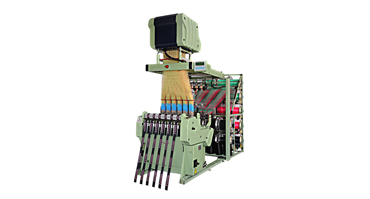 Narrow fabric jacquard loom series of products
Computer jacquard machine for the production of various types of flexible...
阅读更多